[GAMEPLAY]
– New accuracy recovery method and new recovery rates for the M4A1-S, M4A4, and AK-47. See details HERE.
[SOUND]
– Increased fidelity of firing sounds for P250, Five-Seven, Tec-9, CZ75-Auto, and Dual Berettas.
– Added unique reload and distant sounds for P250, Five-Seven, Tec-9, and Dual Berettas.
[MISC]
– Added defusekit player state to game state integration support.
– cl_weapon_debug_print_accuracy 2 is now a tab delimited formatted output of information.
– Fix a bug that rarely caused a player to be on the wrong team in competitive mode.
– Fix a bug that allowed players to spawn in unexpected (invalid) locations on various maps.
– Added logic to prevent airstalling (where a player appears to float in midair by disrupting their network stream).
– Added sv_clamp_unsafe_velocities convar (default: 1) that community servers can disable to support surfing, etc.
– Misc security improvements.
– Modified report and commend GC logic to clearly signal failure in the case of spoofed reports.
---
Second Shot
Today we're shipping a new accuracy recovery method and new recovery rates for the AK-47, M4A1-S, and M4A4.
Accuracy Recovery Rate
Accuracy recovery rate determines how quickly the accuracy of a weapon returns to its baseline value after firing. It was previously expressed as a fixed value, but is now split into initial and final values.
Now shorter firing sequences can be designed to recover accuracy faster than longer ones, and the recovery rate for tapping/bursting/spraying can be tuned independently.
Goals
The goal is to allow players to develop and express their skill using a variety of methods of firing a weapon, by increasing the effectiveness of tapping/bursting relative to that of spraying.
Previously we shipped an update to the AK-47, M4A1-S, and M4A4 accuracy recovery rates with that goal in mind, but due to limitations of the system, the solution we employed had a downside which was a smaller but still noticeable detrimental effect on tapping and bursting. We reverted that change and went back to the drawing board, still with the same goal but without those trade-offs. Ultimately that led us to this new way of handling recovery rate.
AK-47, M4A1-S, M4A4
To start, we're shipping new values for the AK-47, M4A1-S, and M4A4.
These three weapons are now slightly more accurate while tapping/bursting than before. Individual bullets can be fired more quickly without sacrificing accuracy, and accuracy recovers more rapidly after short firing sequences. Spraying is still advantageous in many engagements, but has the trade-offs of slightly worse accuracy towards the end of the spray and slightly slower recovery afterward.
Here are examples of how inaccuracy accumulates with the AK-47 before and after today's change: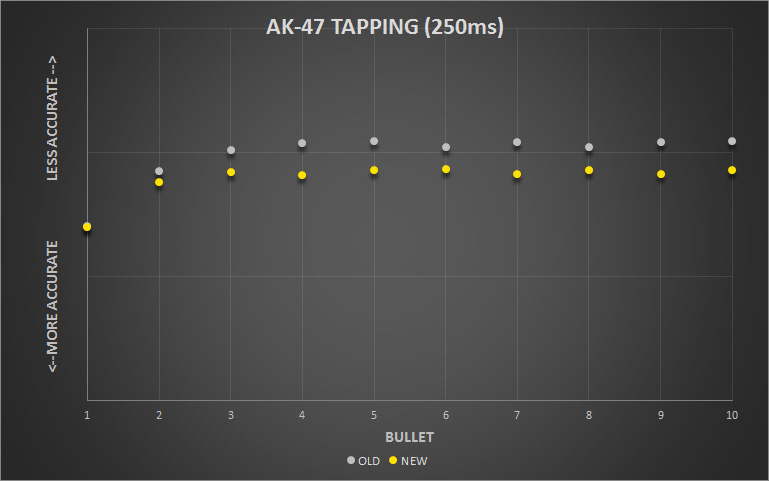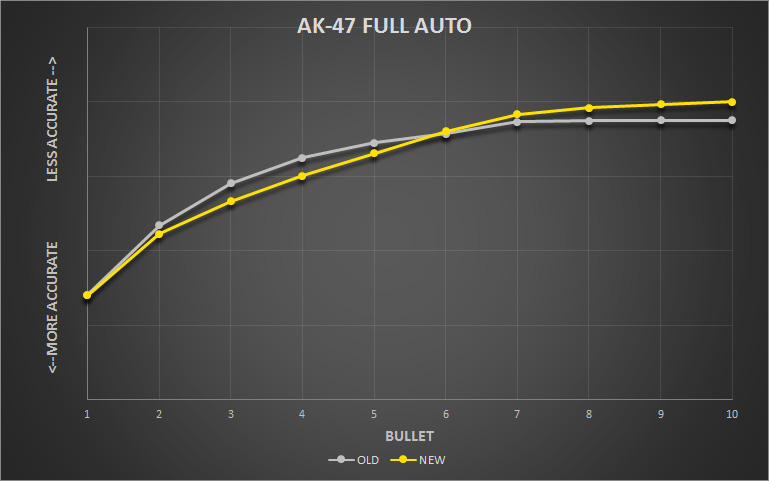 Next Steps
Today's values are just a start, as we'll continue to measure and tune them over time. One of the best ways to give us feedback about these new values is to play the game so we can gather accurate usage statistics, so hop into a game and try them out!